email: enquiries@hadriancoins.co.uk
'Brass' sestertii
One 'brass' (or 'orichalcum') sestertius represented one quarter of a silver denarius.
A sestertius was a substantial coin - measuring about 30-35 mm across and about 3-4 mm thick.
Coins are listed in order of Emperors and then by price.
If you are interested in buying any of the coins featured on this page,
please email us to check that it is still available, quoting our reference number
(beginning RC_).
---------------------------------------------------------------------
Claudius, 41 to 54 AD
---------------------------------------------------------------------
RC 2937 - Claudius (41-54 AD) - brass sestertius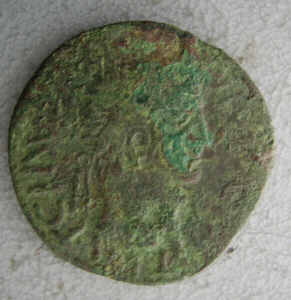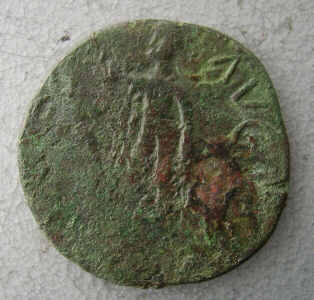 RC 2937 - Claudius (41-54 AD) - brass sestertius - 35mm
obverse - TI CLAVDIVS CAESAR AVG PM TR P IMP
reverse - [SPES] AVGVSTA - Spes (Hope) advancing holding flower and holding skirt.
Hope is always personified as a young girl going out in adult dress for the first time, raising her skirt clear of the mud.
This is probably a contemporary copy issued by the Roman army.
The coin has a good green patina.
£95
---------------------------------------------------------------------
Hadrian, 117 to 138 AD
---------------------------------------------------------------------
RC 1754 - Hadrian (117-138 AD) - brass sestertius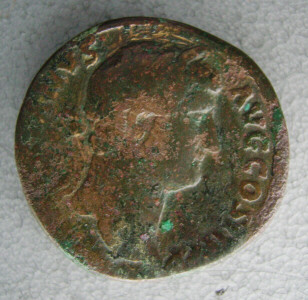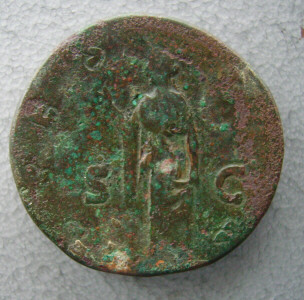 RC 1754 - Hadrian (117-138 AD) - brass sestertius of 30 mm (Rome, 137 AD)
obverse - HADRIANVS AVG COS III PP
reverse - SPES AVG - Spes (Hope) advancing, holding a flower and raising her skirt.
Hope is always personified as a young girl going out in adult dress for the first time, raising her skirt clear of the mud.
£60
---------------------------------------------------------------------
RC 3303 - Hadrian (117-138 AD) - brass sestertius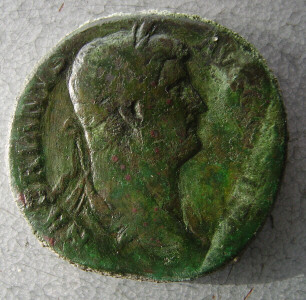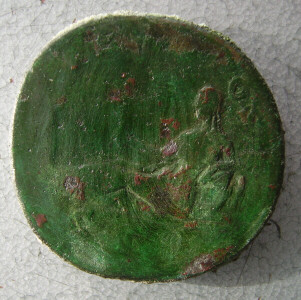 RC 3303 - Hadrian (117-138 AD) - brass sestertius of 30 mm (Rome, 136 AD)
obverse - HADRIANVS AVG COS III PP
reverse - AEGYPTOS - Egypt reclining with basket of fruit, an ibis on a column near her feet.
£75
---------------------------------------------------------------------
RC 1100 - Hadrian (117-138 AD) - brass sestertius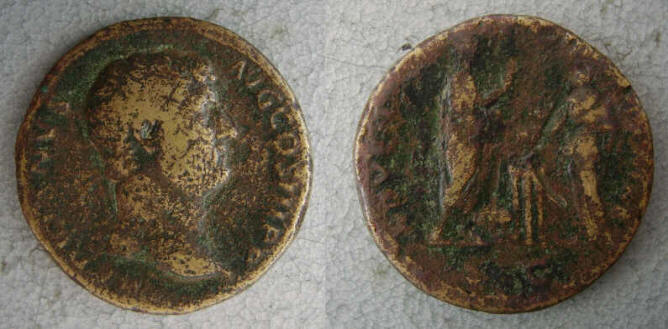 RC 1100 - Hadrian (117-138 AD) - brass sestertius of 30 mm (Rome, 136 AD)
obverse - HADRIANVS AVG COS III PP
reverse - ADVENTI AVG [GALLIAE?] - Hadrian standing facing Gaul (?) sacrificing over altar.
£100
---------------------------------------------------------------------
RC 2911 - Hadrian (117-138 AD) - brass sestertius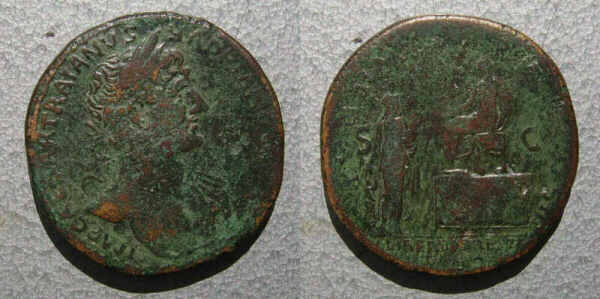 RC 2911 - Hadrian (117-138 AD) - brass sestertius of 125AD (33 mm)
obverse - IMP CAESAR TRAIANVS HADRIANVS AVG
reverse - PONT MAX TR POT COS III - LIBERTAS RESTITVTA (in exergue)
Hadrian seated on dais, his arm outstretched towards woman and child.
A coin with an attractive green patina.
£175
---------------------------------------------------------------------
RC 3319 - Hadrian (117-138 AD) - brass sestertius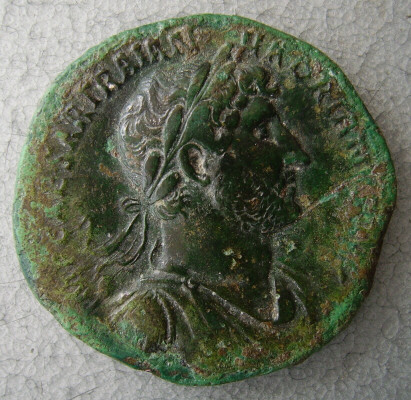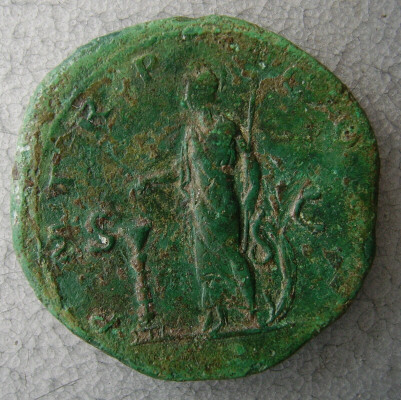 RC 3319 - Hadrian (117-138 AD) - brass sestertius of 122AD (33 mm)
obverse - IMP CAESAR TRAIANVS HADRIANVS AVG
reverse - P M TR P COS III - Minerva (goddess of war) sacrificing and holding a spear
A coin with a superb 'glossy' portrait, showing Hadrian's full beard, and an attractive green patina.
SOLD
---------------------------------------------------------------------
Aelius Caesar, adopted son of Hadrian
RC 2742 - Aelius Caesar - brass sestertius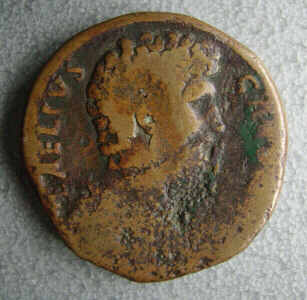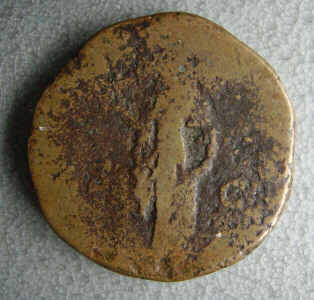 RC 2742 - Aelius Caesar - sestertius of 137 AD (31 mm)
Aelius was Hadrian's first adopted heir who died in January 138 AD, six months before Hadrian
obverse - AELIVS CAESAR
reverse - (no legend) - Spes (Hope) advancing, holding a flower and raising her skirt.
Hope is always personified as a young girl going out in adult dress for the first time, raising her skirt clear of the mud.
£65
---------------------------------------------------------------------
Antoninus Pius, 138 to 161 AD
---------------------------------------------------------------------
RC 2791 - Antoninus Pius (138-161 AD) - brass sestertius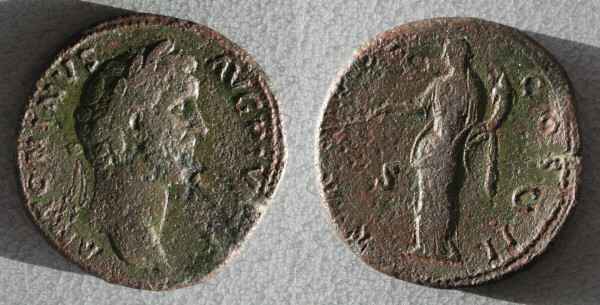 RC 2791 - Antoninus Pius (138-161 AD) - brass sestertius (Rome Mint, 139 AD)
obverse - ANTONINVS AVG PIVS PP
reverse - TR POT COS II - Pax (peace) or Fortune holding cornucopia and olive branch
£55
---------------------------------------------------------------------
RC 1687 - Antoninus Pius (138-161 AD) - brass sestertius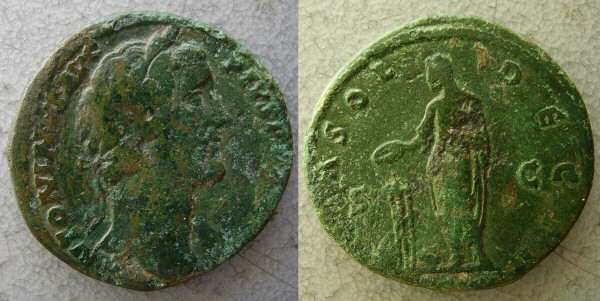 `
RC 1687 - Antoninus Pius (138-161 AD) - brass sestertius (Rome Mint, 158-9 AD)
obverse - ANTONINVS AVG PIVS PP
reverse - VOTA SOL DEC II - Antoninus sacrificing over a tripod altar.
£65
---------------------------------------------------------------------
RC 1633 - Antoninus Pius (138-161 AD) - brass sestertius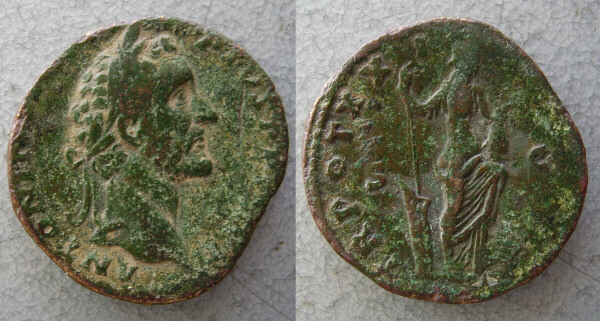 `
RC 1633 - Antoninus Pius (138-161 AD) - brass sestertius (Rome Mint, 151-1 AD)
obverse - ANTONINVS AVG PIVS PP
reverse - TR POT XXI [COS II?] - Fortune, with upturned cornucopia, steering the ship of state.
£65
---------------------------------------------------------------------
RC 616 - Antoninus Pius (138-161 AD) - brass sestertius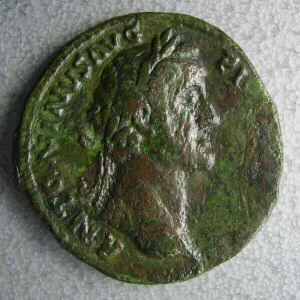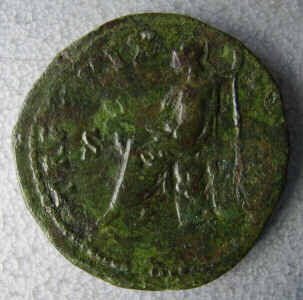 RC 616 - Antoninus Pius (138-161 AD) - brass sestertius of 155-6 AD
obverse - ANTONINVS AVG PIVS [PP IMP II]
reverse - TR POT XIX [COS IIII] - Roma helmeted seated on pile of shields, holding globe and sceptre.
SOLD
---------------------------------------------------------------------
Faustina Junior, wife of Marcus Aurelius
---------------------------------------------------------------------
RC 1714 - Faustina Junior - brass sestertius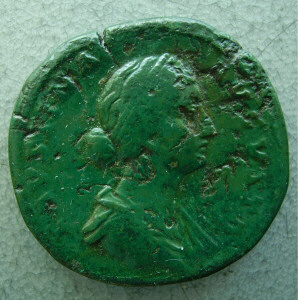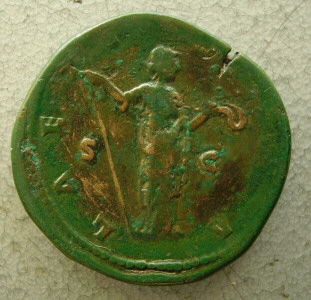 RC 1714 - Faustina Junior - brass sestertius
obverse - FAVSTINA AVGVSTA
reverse - LAETITIA - Laetitia (happiness) holding olive wreath and sceptre..
£60
---------------------------------------------------------------------
email: enquiries@hadriancoins.co.uk