Antoniniani or radiates
Coins are listed in order of Emperors and then by price.
Scroll down for Third Century antoniniani.
For more antoniniani (radiates), please see also our lists of coins from Hoards and Coins under £20
email: enquiries@hadriancoins.com
An antoninianus was valued as a double denarius but from the outset it only weighed the same as 1½ denarii!
Introduced by Caracalla in 214 AD as a silver coin (though only just over 50% pure), later emperors
reduced its silver content even more as they struggled to cope with inflation. By 270 AD, it had been debased to a small bronze coin washed over with a thin plating of silver. Aurelian (270-275 AD) restored its size and issued antoniniani of billon, an alloy of bronze and silver in the proportion 20:1 also surfaced with a silver wash. The reforms of Diocletian at the end of the third century saw the end of this coin, though copies were still made by unofficial local mints in the western empire into the fourth century. Antoniniani can be identified by the radiate crown worn by the Emperor and, on the coins of Empresses, by the crescent behind the base of their neck.
---------------------------------------------------------------------
Silver or base silver Antoniniani
---------------------------------------------------------------------
Gordian III, 238 to 244 AD
---------------------------------------------------------------------
RC 1747 – Gordian III (238-244 AD) - silver antoninianus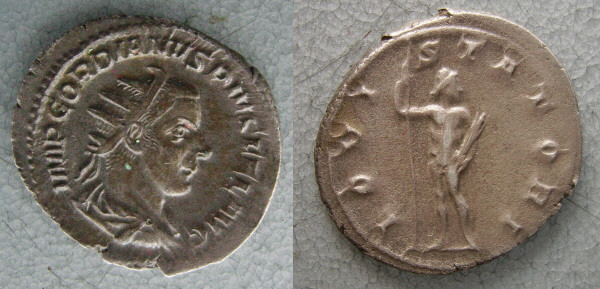 RC 1747 – Gordian III (238-244 AD) - silver antoninianus of 238-9 AD
obverse - IMP GORDIANVS PIVS FEL AVG
reverse - IOVI STATORI - Jupiter standing with thunderbolt and sceptre.
£42
---------------------------------------------------------------------
RC 3250 – Gordian III (238-244 AD) - silver antoninianus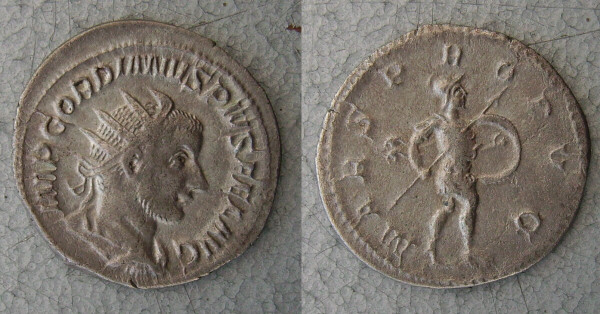 RC 3250 – Gordian III (238-244 AD) - silver antoninianus of 243-4 AD
obverse - IMP GORDIANVS PIVS FEL AVG
reverse - MARS PROPVG - Mars advancing with spear and shield.
£48
---------------------------------------------------------------------
Probus, 276-282 AD
---------------------------------------------------------------------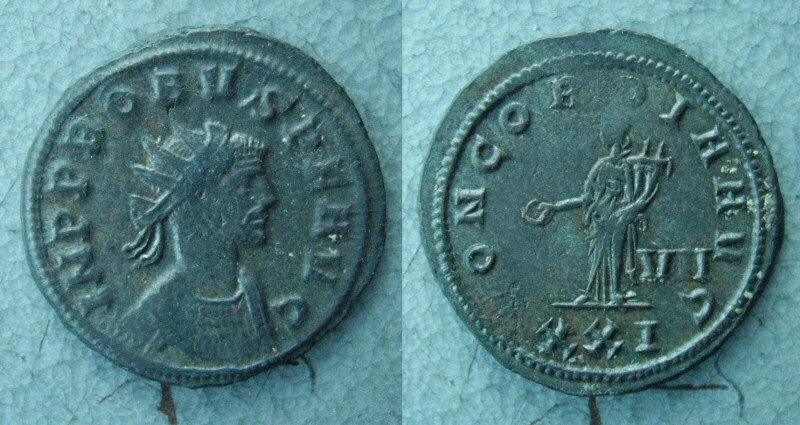 RC 3350 - Probus (276-282) - billon antoninianus with a little silvering remaining (c22 mm)
obverse - IMP PROBVS PF AVG
reverse - CONCORDIA AVG - Concord (harmony) with patera (sacrificial dish) and cornucopia.
XXI in exergue, VII in field
(from an old unrecorded hoard)
£40
---------------------------------------------------------------------