The Nether Compton Hoard, February 1989
On 19th February 1989, a metal detectorist found a large pottery vessel containing a hoard of 22,670 roman coins in a field near the site of a 'known' roman building in the small village of Nether Compton in Dorset. Shortly after its discovery, the hoard was taken to the Dorchester Museum but no detailed record was made of the coins. In 1994, the coins were returned to the finder and sold through the trade, many going abroad. The pottery vessel and 33 coins which were stuck to it were donated to the museum.
The vast majority of the coins date from the 330s AD and are overwhelmingly of the Gloria Exercitus type of Constantine the Great and his sons. It is estimated that there were between 20 and 21 thousand coins of this type, some featuring one standard, some with two. There were also between one and two thousand commemoratives of Rome and Constantinople and a few hundred earlier coins. As there were no coins of the 'two victories' type, the latest date for the hoard seems to be 339 AD.
Scroll down to see our selection of coins from this hoard.
---------------------------------------------------------------------
Constantine Junior (later Constantine II) - Caesar 317 to 337 AD
---------------------------------------------------------------------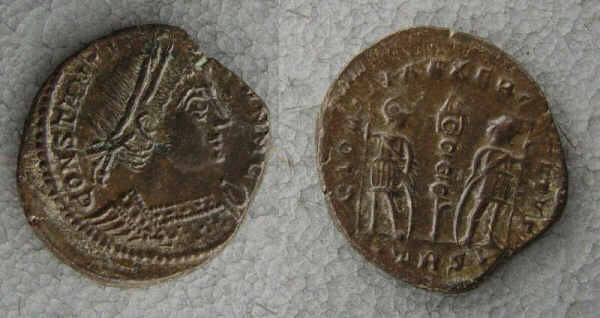 RC 2869 - Constantine Junior, Caesar 317-337 AD (later Constantine II)
reduced cententionalis of c15 mm
Obverse - CONSTANTINVS IVN NOB C
reverse - GLORIA EXERCITVS
two soldiers with spears and shields either side of a military standard.
TR S - Mint of Trier, second workshop
Ex. Nether Compton Hoard, 1989
SOLD
---------------------------------------------------------------------
email: enquiries@hadriancoins.co.uk