The Grassmoor Hoard (East Midlands), January 2001
The Grassmoor Hoard, found in January 2001, consisted of 1375 small (avr. diam. 17 mm) bronze coins of Constantine I and his family, mostly struck between 317 and 340 A.D.. Many were minted at Arles, Trier and Lyons but a few at other mints, including London. The British Museum retained about 300 coins and the rest came onto the open market in March 2011. The coins we have are from the Arles and Trier mints and are of four main types - Commemorative of Roma, Commemorative of Constantinople, Camp Gate, Two Soldiers with Standards.
We currently do not have any coins from this hoard.
---------------------------------------------------------------------
Constantine I, 307 to 337 AD
---------------------------------------------------------------------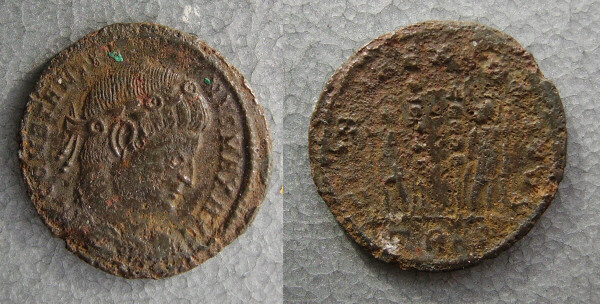 RC 3042 - Constantine I (307-337) Constantine the Great
obverse - CONSTANTINVS MAX AVG
reverse - GLORIA EXERCITVS - 2 soldiers with 2 standards
S TR - Trier Mint
ex. Grassmoor hoard (2001)
SOLD
---------------------------------------------------------------------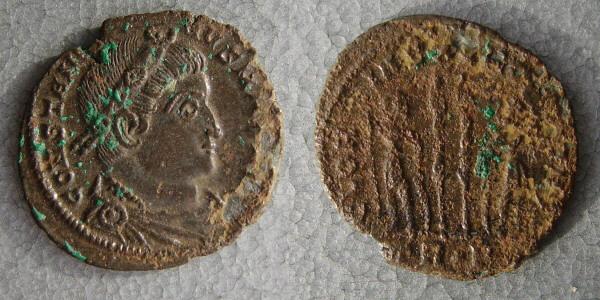 RC 3043 - Constantine I (307-337) Constantine the Great
obverse - CONSTANTINVS MAX AVG
reverse - GLORIA EXERCITVS - 2 soldiers with 2 standards
TR P - Trier Mint
ex. Grassmoor hoard (2001)
SOLD
---------------------------------------------------------------------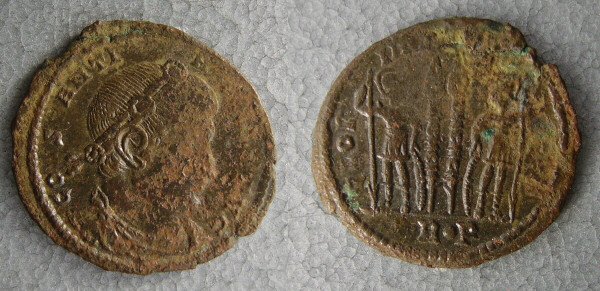 RC 3045 - Constantine I (307-337) Constantine the Great
obverse - CONSTANTINVS MAX AVG
reverse - GLORIA EXERCITVS - 2 soldiers with 2 standards
TR P - Trier Mint - 1st Workshop
ex. Grassmoor hoard (2001)
SOLD
---------------------------------------------------------------------

RC 3110 - Constantine I (307-337) Constantine the Great
obverse - CONSTANTINVS MAX AVG
reverse - GLORIA EXERCITVS - 2 soldiers with 2 standards
S TR - Trier Mint
ex. Grassmoor hoard (2001)
SOLD
---------------------------------------------------------------------
The Sons of Constantine I
---------------------------------------------------------------------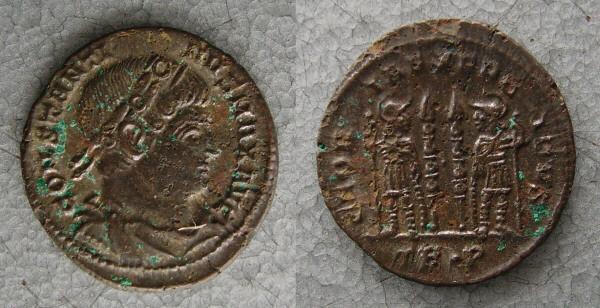 RC 3195 - Constantine II as Caesar (317-337)
obverse - CONSTANTINVS MAX AVG
reverse - GLORIA EXERCITVS - 2 soldiers with 2 standards.
ex. Grassmoor hoard (2001)
TR P - Trier mint - 1st workshop.
SOLD
---------------------------------------------------------------------
email: enquiries@hadriancoins.co.uk