Hadrian Coins and Antiquities is the website of Julie and John Higham, based in the UK, now in the County of Derbyshire.
Our first career was as secondary school teachers, Julie teaching French and Spanish, John teaching History.
After retiring from teaching in 1985 we opened an Antique Shop in Carlisle which proved very popular and successful.
Over the years we began to specialise, particularly in Antique Maps and in Roman Coins and Antiquities.
In 2013, our landlord began building works to extend his premises so we closed our shop to concentrate on our online business.
However we have two showcases, one in Bookcase, the large Antiquarian Book Shop
on Castle Street in the City of Carlisle, the other in the Derwentside Antique Centre in Belper, Derbyshire
In both we have coins from £5 to £100 and some selected antiquities.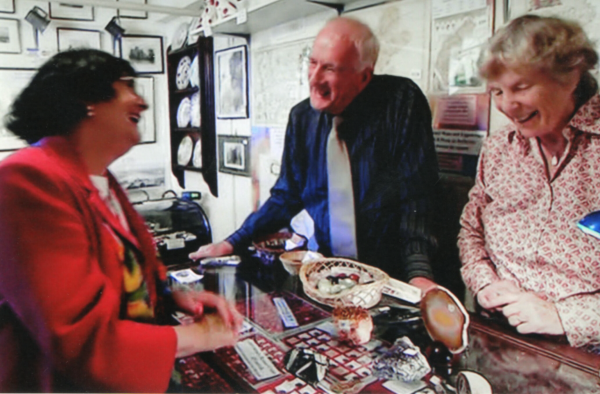 With Anita Manning during a filming of the BBC 'Antiques Road Trip' in 2012